"A Great Hammock And Very Secure For Our Aussie Shepherd, It Was Easy To Fit. Wish We Had Found These Before." Michael J - Pet Parlour Customer
Customer Reviews
23 in stock
Regular price
$119.99 AUD
Regular price
$149.99 AUD
Sale price
$119.99 AUD
Unit price
per
RRP
Sold out
Fast Delivery From Sydney

Fitting Guarantee

1 Year Warranty
Dog Car Hammock and Seat Belt
Dog Car Hammock and Seat Belt
Do you love taking your dog out for trips in the car? You need a dog car hammock. When it comes to walkies, sometimes a journey is necessary, but this can cause a lot of wear and tear on your car seats. Excitable dogs can scratch upholstery, drool all over the fabric, and get big muddy paw prints everywhere, and that's before we count the dog hair! This car seat cover will save dog owners time and effort. It is easy to install, durable, and versatile. And most importantly, it will keep your car Fur King clean!
Car Seat Cover Features:
12 month warranty
Seatbelt openings
1 seat belt included
Easy clean with a damp sponge
Machine washable for a deeper clean
Made from water resistant material
Mesh window so your dog can look through 
Adjustable straps that fix to front and rear head rests
Can be used for all breeds
Anti-slip backing keeps your pet safe
1 seat belt adaptor
Size
The hammock is 137 by 147 cm. It features adjustable straps then able it to fit your cars back seat no matter the size. This includes large SUV's and 4 x 4s.


Water Resistant Cover
This oxford fabric blanket dog car hammock is not only water resistant, but also comfortable for your pet to lie on. This is thanks to the quality of the fabric used. Oxford fabric is strong and water-resistant, while also creating a natural look and feel. This is reinforced by cross-stitching across the surface that makes the car seat cover even more comfortable. 
If you have ever taken your dog for a ride in the car, you know why water-resistance is so important. A rear seat cover that lets liquids go through will protect your rear seat from hair, but not from various other accidents that can happen. With this car hammock, your seats will be absolutely safe from drooling, water, mud, and accidental spills too. Even if your dog gets wet during the walk, they can jump right onto the seat!  
A dog car seat cover for dogs is not worth anything if it's not durable, but luckily, this one is! It's not just about the quality of the fabric, but about the details. All the parts (including the seat anchors and the zippers) are put together with reinforced stitching. You can rest assured this hammock will last for a long time even if you have a very energetic dog on your hands!
Full Coverage
This hammock will completely cover the back seat of your car. It covers the backrest, the seating area, and then goes up again to protect the back of your front seats too. In addition to this, there are two side flaps that can be zipped up to create a complete enclosure. When the hammock is set up in this way; your pet (or pets) as well as their hairs remain completely contained within the hammock. This is not only great for keeping your car clean, but also keeps your dog safe and comfy! The hammock style comforts dogs who get anxious during car rides, so that they can lie down and relax, or sit up and watch the world go by.
Easy Setup
No matter how big or small your car is, this dog car hammock is easy to install and is simple to remove again. The seat hammock is equipped with straps that you simply wrap around the car headrests. Each one of these seat anchors has a quick release buckle which makes the process even easier. In addition to this, each strap is adjustable which makes it easy to adjust the sizing to your car. The whole process should take more than 2 minutes and it's very simple! 
Flexibility
Another great thing about this dog hammock is the fact that it's multi-functional. In the first place, it works as a hammock-style back seat cover as described above. However, thanks to multiple attachments and zippers you can transform the hammock into a regular back seat cover as needed. 
When you want human passengers to sit in the back too, but don't want to remove the seat cover, you can just fold down the front part and you've got a seat cover that keeps the floor space open in front of the seat. When you do this, you can also put the protection flaps on the sides down, so your seat is protected from all sides. This feature definitely makes this seat cover stand out among other similar products in the world of pet supplies.
Seat Belt Openings
This pet car hammock also features convenient seat belt openings that allow you to pull the seat belt attachment through. If your dog is particularly excitable, then you can now drive without any fear of what they're getting up to. Simply use the seat belt to keep your pet restrained. This dog car hammock keeps your dog secure with seat belt openings so that you can focus on getting everyone to and from the park safely. It's also great to have the seat belt functional when you want human passengers in the back, but want to keep the cover in place!
Non-slip Backing
This car hammock features multiple layers. While the front is made of water-resistant oxford fabric, the reverse side is enriched with non-slip fabric. The non-slip backing helps prevent the cover from moving around. 
Especially if your seats are made of smooth leather or a similar material, the slippery surface can create a risk of car seat covers slipping dangerously around during the drive. A sudden movement could lead your dog to fly to the side along with the cover. However, the non-slip backing on this hammock ensures the cover remains firmly stuck to the back seat. No matter what happens, it won't move an inch. 
Easy Storage
This heavy-duty hammock sling design is built to provide maximum convenience. This is why it comes with additional storage pockets. The pockets mean that there is always an easy place to store leads, toys or treats so you'll never forget them when you go out.
In addition to this, it's also super easy to fold up this seat hammock for storage. When walkies are over, the seat cover can be folded and stored away. It's fairly thin so it's compact and lightweight when folded. 
Easy Cleaning
Another advantage of this hammock cover is that it's super easy to clean. When it gets dirty, simply wipe it down with a damp towel to get rid of any grime. Pet hair will slip right off too when you use a wet cloth. 
With regular use, any cover will get quite dirty and stinky. But with this cover, this is not a problem either. You can simply throw it in the washing machine for a deep clean. Just use a gentle cycle and let it dry. This car hammock dries fast too since it's made of polyester.
Mesh Window
The final feature of this car hammock is the mesh window in the front. While most of the cover is black, the part that goes between the two front seats is made from semi-transparent mesh fabric. This mesh window is a great feature because it adds an additional layer of security. You can always see what your dog is up to when you look back through the mesh window. In addition to this, the dog can see you which can help anxious dogs feel more calm. A mesh window might seem like an insignificant feature, but it can greatly improve the experience both for you and your pet.
View full details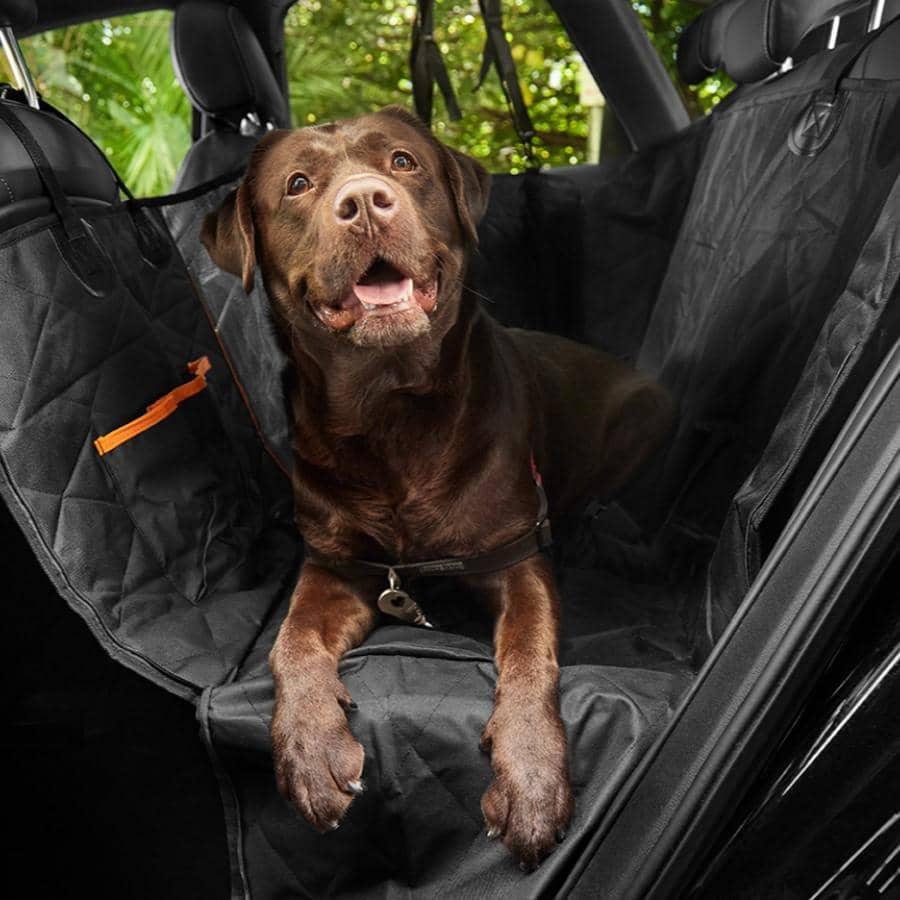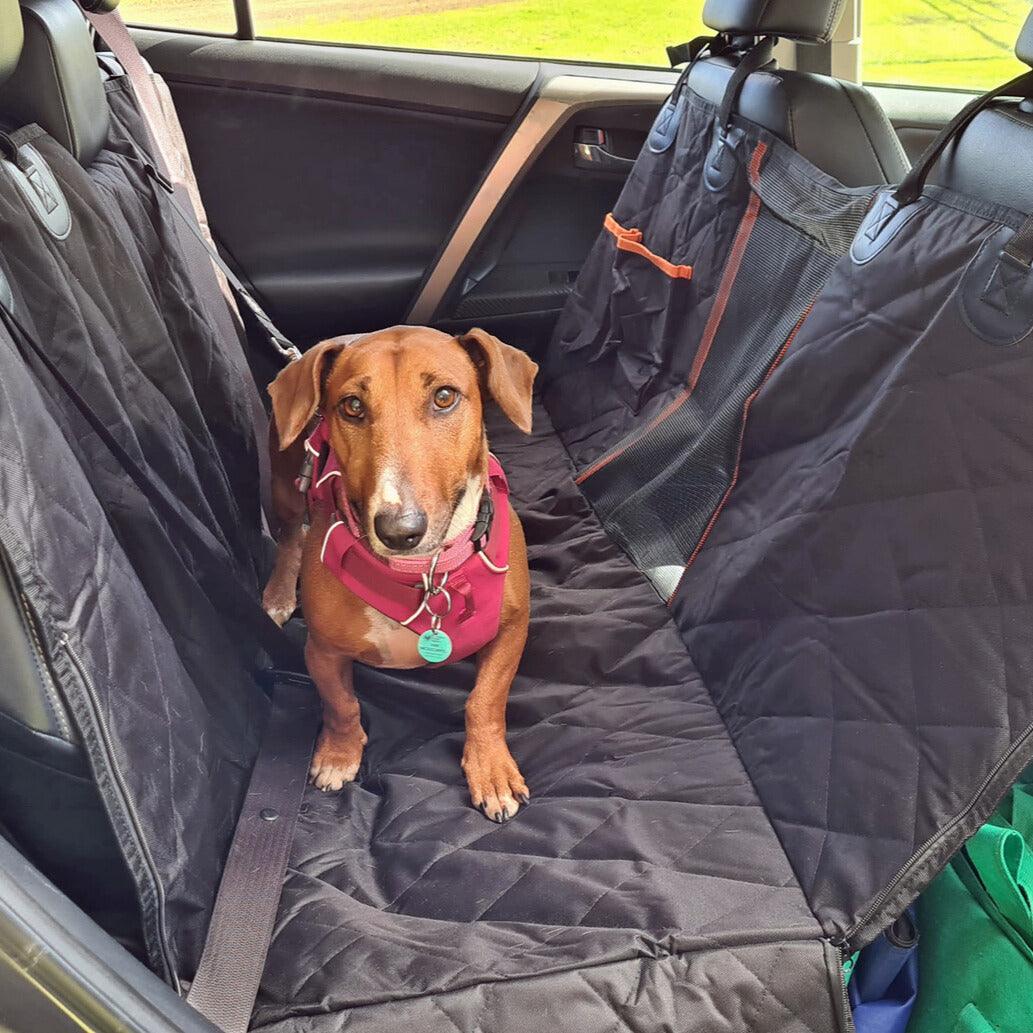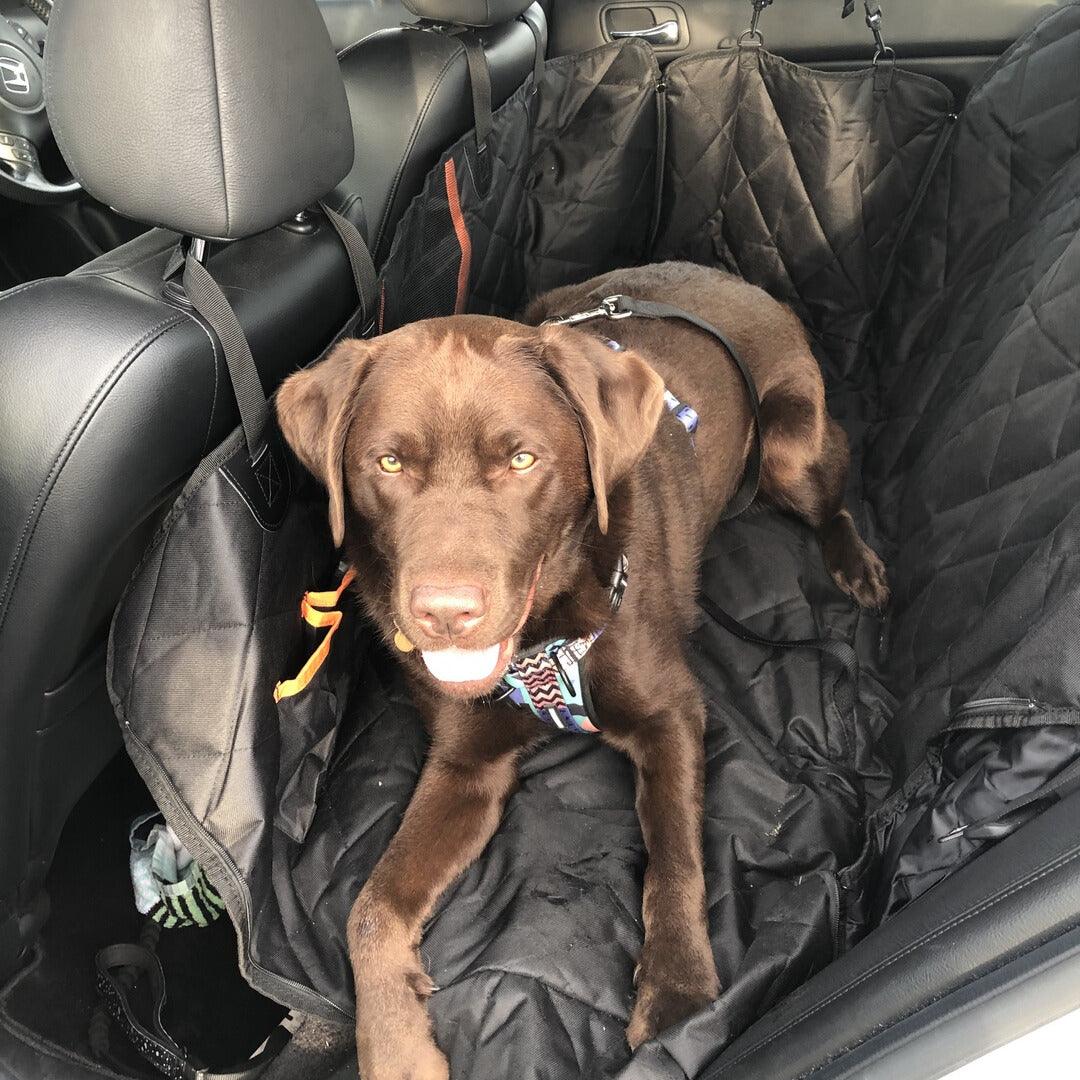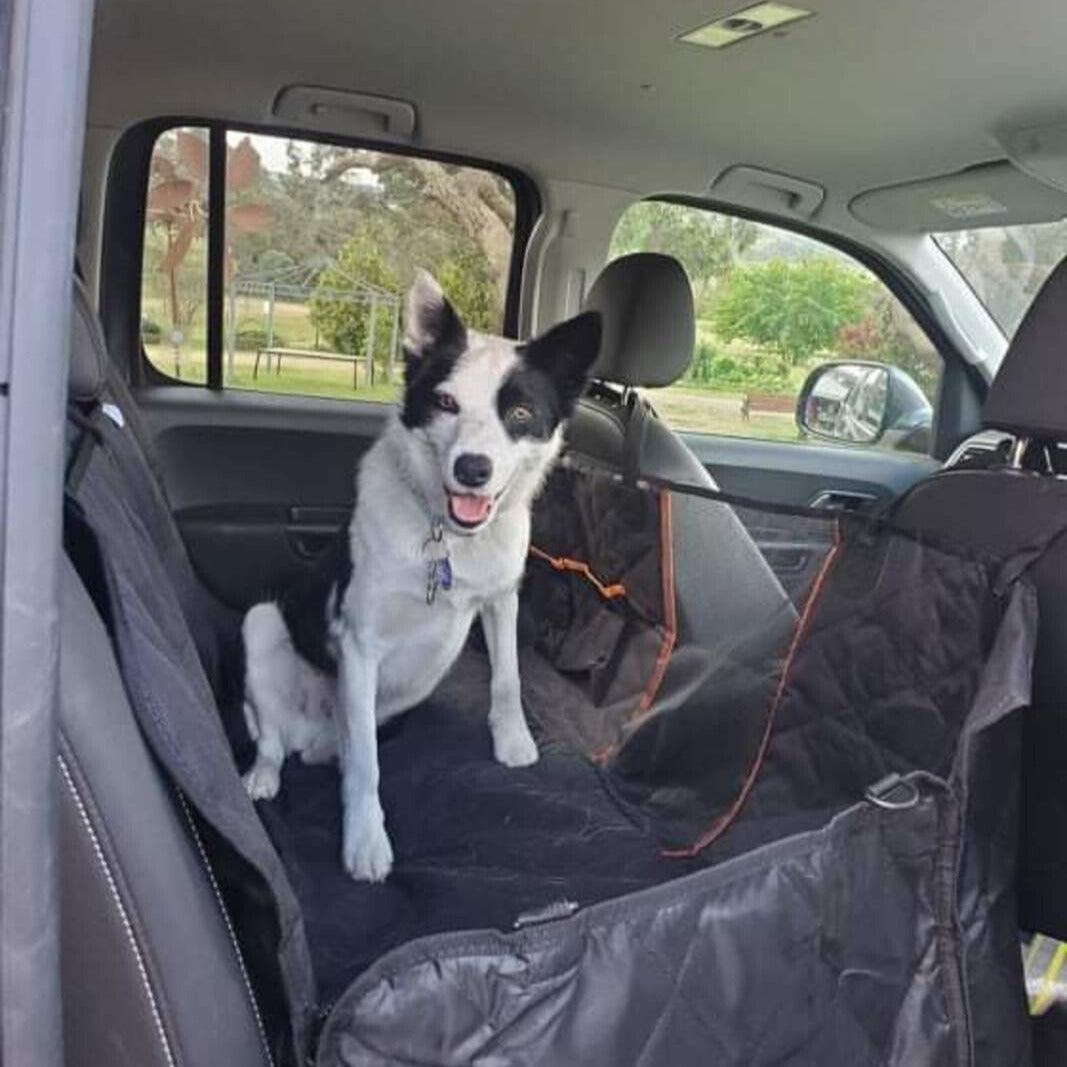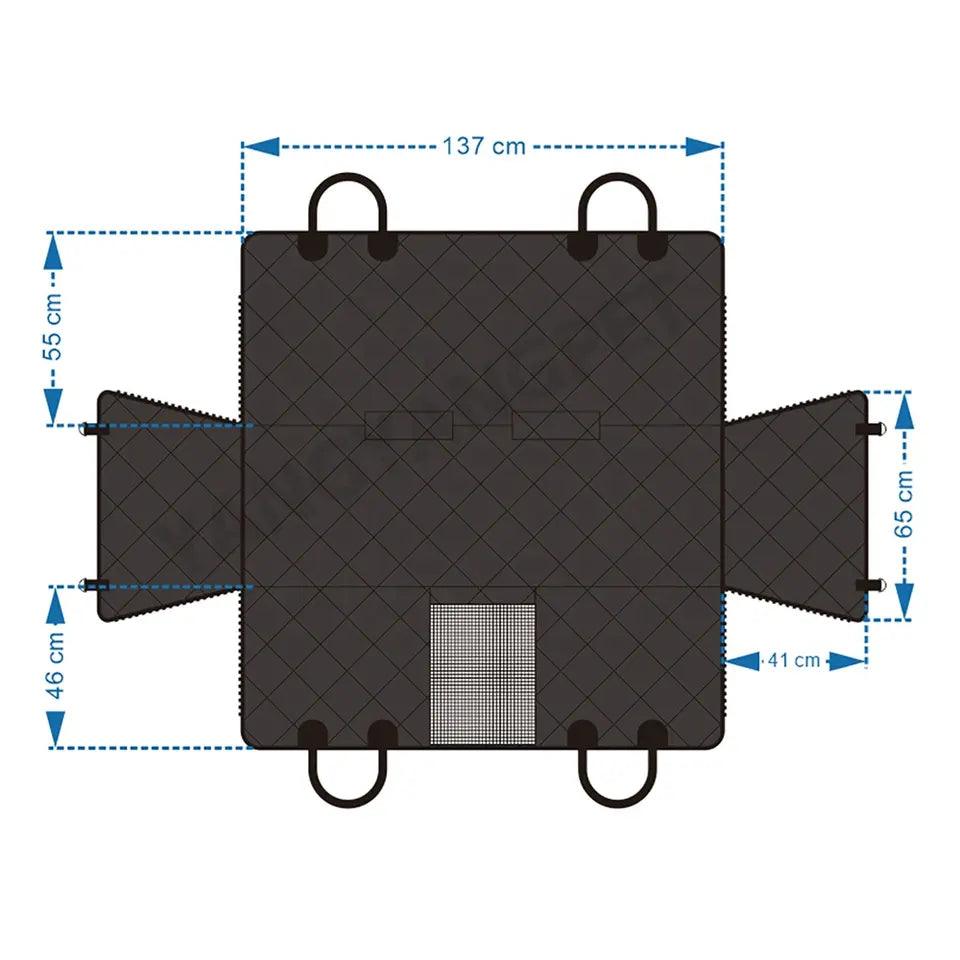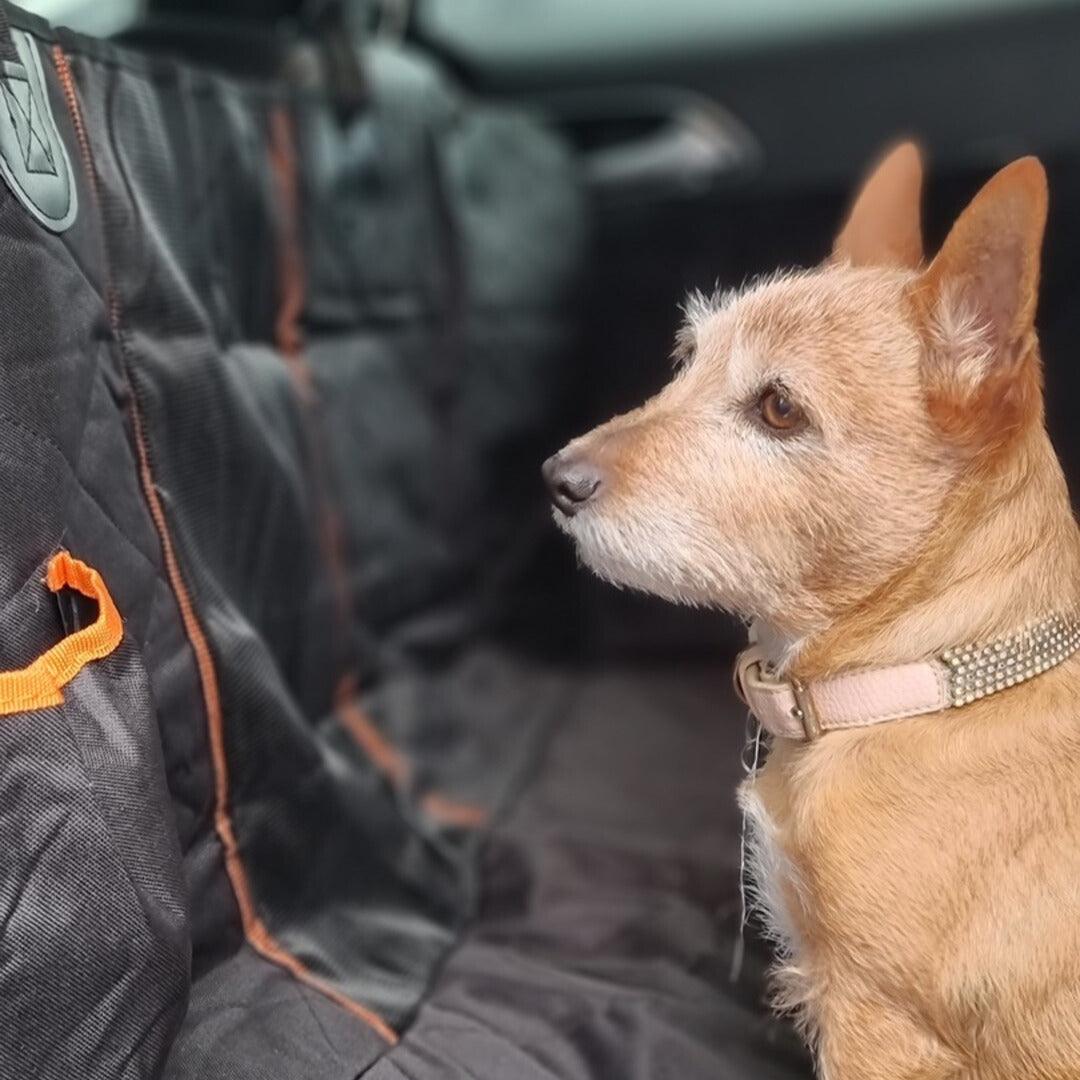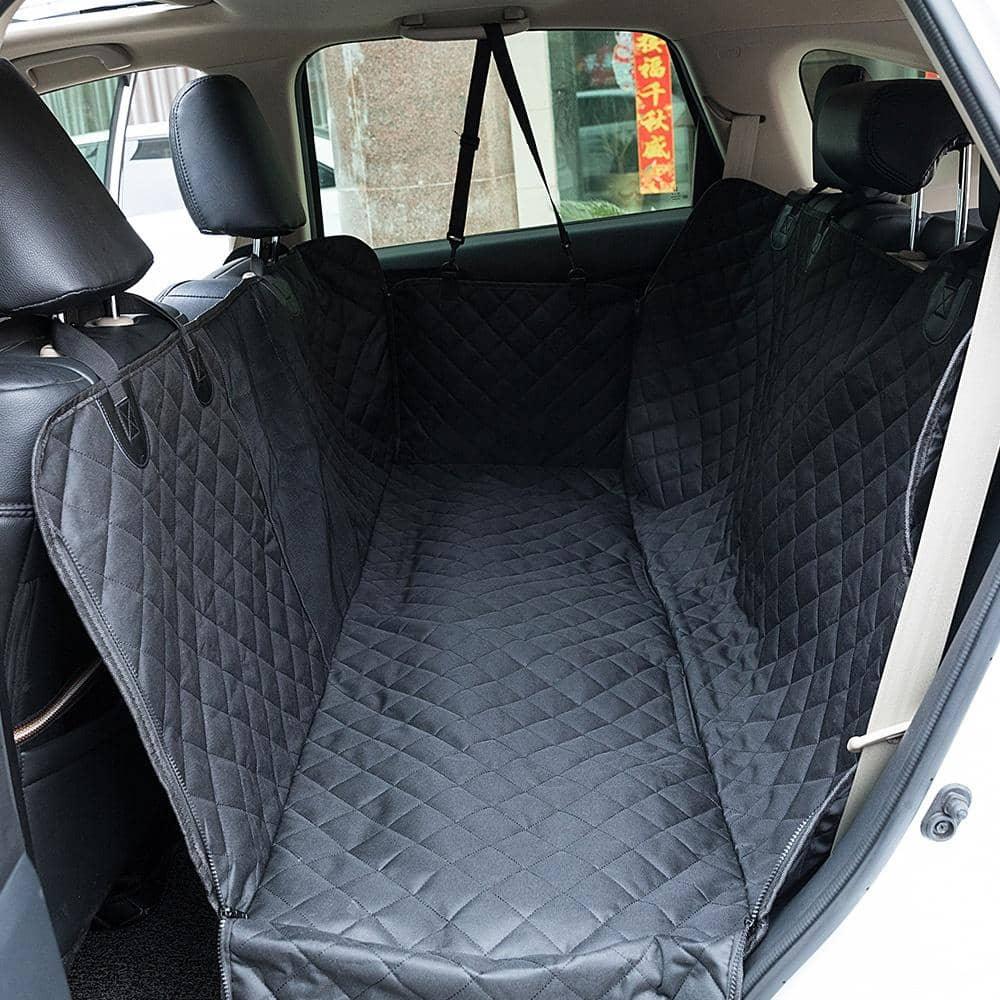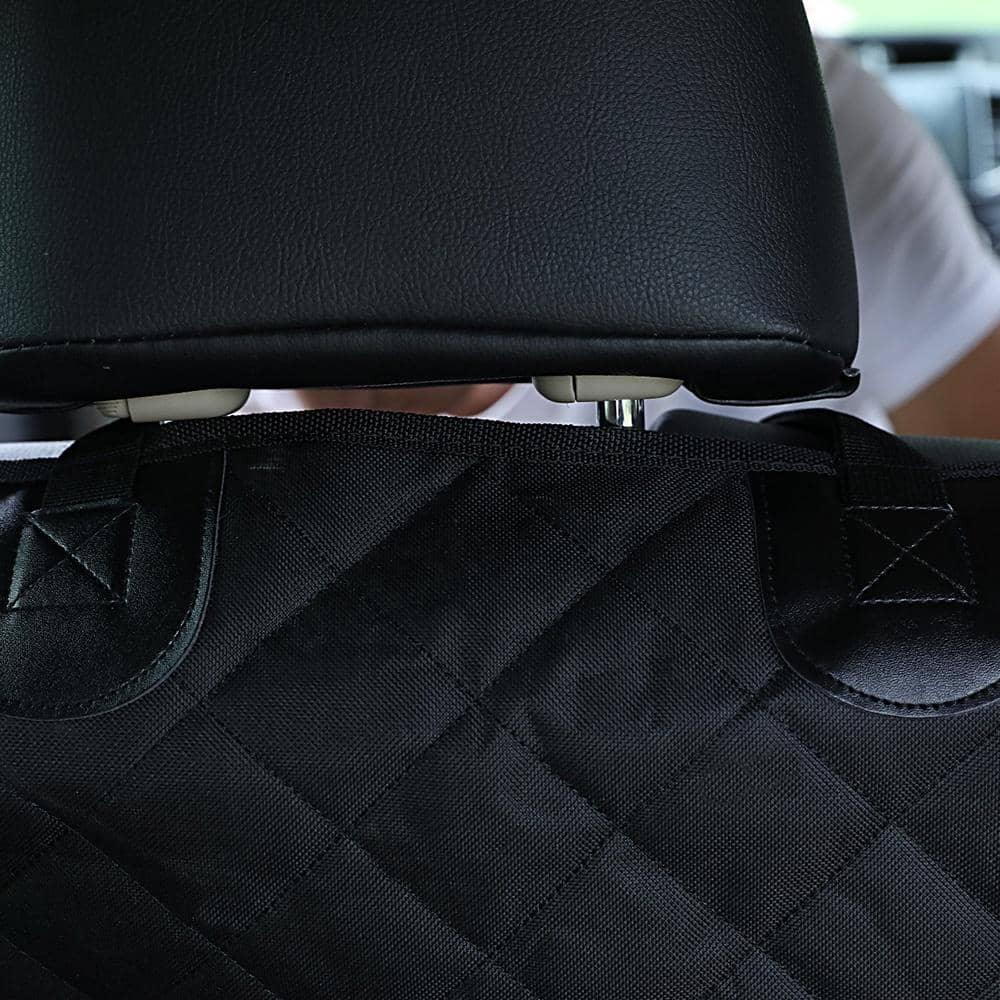 Recommended By Vets - Dr Kate B, Queensland
"My girl loves her new car hammock. It does everything we need it to and more. The thick, water-resistant material allows us to keep our seats well protected, and the hammock is also machine-washable for easy cleaning. It also comes with a bunch of really useful pockets to store things like doggy water bottles, spare poo bags, treats etc. We especially like the mesh opening in the centre which allows air flow from the air-conditioning vent on hot days. It also fits really nicely on the seats so our big girl doesn't lose any space in the back."
Our Product Promise
Fast Delivery

These Hammcoks Will Be Sent Next Business Day From Our
Sydney Warehouse

Fitting Guarantee

These Hammocks Will Adjust To Fit All Car Sizes From Small All The Way To Large SUVs. They Don't Fit Oversize US Utes. If The Hammock Doesn't Fit Just Send It Back to Us For Store Credit.

1 Year Warranty

All Seems, Stitching And Material Are Guaranteed For Normal Wear And Tear For 1 Year.
FAQs
Are car hammocks safe for dogs?

Yes, a car hammock is one of the safest ways for pet owners to take their dogs along in the car. Hammock-style seat covers will keep your canine companion safely contained in the back seat. Additionally, the hammock seat cover makes the dog feel calmer, which is great for canines who suffer from car anxiety. This seat cover also has openings for your seat belt to go through. This way, you can use the seat belt to anchor your dog and ensure maximum safety.
What is the safest way for a dog to travel in a car?

Cars are designed to be safe for humans, but not so much for dogs. In addition, car safety rules for dogs are largely undefined, which leaves pet owners having to find the safest way themselves. What we can tell you is that the rear seat of the car is most likely the safest place. The front seat can be dangerous for the dog, especially if you have an airbag. In addition, it helps is the dog is restrained. Hammock design dog car seat covers like this one add an extra layer of safety.
Is it illegal to carry an unrestrained dog in a car?

This will depend on where you live, since dog safety regulations vary from state to state. However, it is actually illegal in most Australian states. Our advice is, keep your dog restrained , as it adds to safety. You can use a specialized dog seat belt for this, or a harness that works with a regular seat belt.
Can you get fined for having a dog in the car?

Yes, you can get fined for having a dog in the car, but only if you don't follow the local regulations. Dogs in cars are allowed everywhere, you just need to meet certain conditions. For example, it is illegal everywhere to have a dog in your lap. It's also your responsibility to ensure that the dog does not distract you while you are driving. If you keep the dog in the rear seat and use a dog seat belt, you can rest assured you are on the right side of the law anywhere in the Australia.
Can you put a dog in the trunk?

This will depend on the local regulations in the area where you live, and on the type of your car. In a regular passenger car, dogs can usually ride in the back. You can use this seat cover to protect the floor of your trunk too so you don't have to shop for additional pet supplies. However, if you are drying a ute or anything with an open trailer in the back, it is usually not allow (nor safe) to keep your dog in there unless it is properly restrained.
Do dogs need seat belts?

A dog seat belt is one option. However, it is also possible to find various products that allow you to keep your dog restrained using the regular seat belt you already have instead of purchasing a specialized dog seat belt.
Can dogs travel long-distance in a car?

Yes, dogs can travel long distances in a car. However, it is important to make sure that your pet is comfortable during the ride. Products like this hammock for your back seat can greatly help with that. Besides protecting the car seat and keeping the dog comfortable, this car hammock also comes with a mesh window in the front that lets you monitor the dog during the ride. A dog seat belt can also be helpful to add an extra layer of safety.
Can my dog sit in the front seat?

If it is the law you are worried about, then you'll be happy to know that it is usually not forbidden for a dog to ride in the front seat (but do check the local regulations in your area). However, there are additional concerns to address. Namely, dogs should never ride in the front seat in cars equipped with an air bag on the passenger side. In the case of an accidents, the air bag could go off and hurt or suffocate the dog. This is because air bags are built only for humans. However, if you don't have an air bag or you can turn it off on the passenger side, then it's safe for your dog to sit in the front seat. It is also important to note that fines apply in most Australian states if the dog obstructs your view of the road.
There are many reasons why your dog might benefit from a dog pram. They might be getting on in years or suffering from health issues that make it hard to...

There are many reasons why your dog might benefit from a dog pram. They might be getting on in years or suffering from health issues that make it hard to...

Join us as we review 5 of the best dog beds in Australia.This guide is here to help. Below, we'll recommend five of the finest dog beds money can buy....

Join us as we review 5 of the best dog beds in Australia.This guide is here to help. Below, we'll recommend five of the finest dog beds money can buy....

More and more dog owners are opting for harnesses over collars, and it's easy to see why. Dog harnesses offer plenty of unique benefits, putting less strain on a dog's...

More and more dog owners are opting for harnesses over collars, and it's easy to see why. Dog harnesses offer plenty of unique benefits, putting less strain on a dog's...